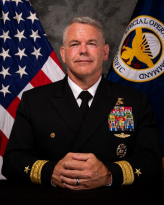 Rear Admiral Jeromy Williams
Commander
,
U.S. Special Operations Command Pacific
Rear Admiral Jeromy B. Williams assumed command of U.S. Special Operations Command Pacific July 19, 2022. Previously he served as the Joint Staff J3 Deputy Director for Special Operations and Counterterrorism.
Rear Admiral Williams was commissioned in 1993 following graduation from the United States Naval Academy in Annapolis, Maryland, with a degree in Aerospace Engineering. He immediately reported to SEAL Training and graduated in January 1994.
From 1994 to 1999, Rear Admiral Williams' operational assignments included two tours as Assistant Platoon Commander, Joint Commissioned Observer Commander, Assistant Operations Officer, and Platoon Commander. He served as a SEAL Team Operations Officer from 2000 to 2001.
Rear Admiral Williams served as Troop Commander, Operations Officer, and Executive Officer from 2001 to 2006. He later served as Squadron Commanding Officer from 2009-2012. He served as Deputy Major Commander and then as Commodore from 2014 to 2017. Rear Admiral Williams served as Deputy Commander Special Operations Joint Task Force-Iraq for Operation Inherent Resolve from 2019-2020.
Rear Admiral Williams' previous staff assignments include duty at the Joint Special Operations Command 1999 to 2000, Crisis and Contingency Division Chief at Special Operations Command Europe 2007 to 2009, and NSW Officer Detailer at the Navy Personnel Command 2012 to 2013. He was assigned to United States Special Operations Command from 2013 to 2014 and as Deputy Director for Integration and International Engagement in the Office of the Chief of Naval Operations from 2018 to 2019.
A distinguished graduate of the U.S. Naval War College, Rear Admiral Williams holds a Master's degree in National Security and Strategic Studies. Selected by the Chief of Naval Operations as the Navy Military Fellow, he served at the Council on Foreign Relations from 2017-2018.