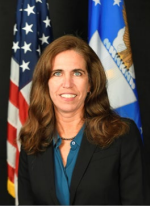 Ms. Kimberly Field
Director J5, Strategy, Plans and Policy
,
U.S. Special Operations Command
Kimberly Cochrane Field, a member of the Senior Executive Service, is the Director for Plans, Policy, Strategy, Concepts, and Doctrine at United States Special Operations Command, MacDill Air Force Base, Florida. In this position, Ms. Field is responsible for developing special operations strategy and leading the development and implementation of policy directly supporting global operations to achieve national defense objectives.
Prior to her current position, Ms. Field was Executive Director of the Albritton Center for Grand Strategy and Professor of the Practice at the Bush School of Government and Public Service, Texas A&M University in College Station Texas. In addition, she was the Countering Violent Extremism Director at Creative Associates, a USAID implementing partner, and most recently, the strategic advisor to the commander of forces in Afghanistan.
A graduate of the United States Military Academy, she concentrated in Russian Studies. Ms. Field retired from the United States Army in 2015 as a Brigadier General, having served tours of duty in Iraq, Somalia, and Afghanistan. After military retirement, Ms. Field became a Deputy Assistant Secretary of State in the Bureau of Conflict and Stabilization Operations (CSO).
Her other assignments include: Assistant Professor in the Department of Social Sciences at the United States Military Academy at West Point; Chief of Plans and Analysis at the George C. Marshall Center; Legislative Strategist for the Army; and Executive Officer to the Commander, International Security Assistance Force Joint Command, Afghanistan. Ms. Field also served two tours with the Department of State, first as a Council of Foreign Relations Fellow at the U.S. Mission to the United Nations and then
as the senior military advisor in the Office of the Coordinator for Reconstruction and Stabilization (S/CRS), which evolved into CSO.
EDUCATION:
1987 Bachelor's in Russian Studies, United States Military Academy, West Point, NY
1997 Masters of International Security, Fletcher School of Law and Diplomacy at Tufts University, Medford, MA
2008 Masters of Advanced Strategic Arts, US Army War College, Carlisle, PA
CAREER CHRONOLOGY:
2021 - Present, Director for Plans, Policy, Strategy, Concepts, and Doctrine, United States Special Operations Command, Tampa, FL
2019 - 2021, Executive Director, Albritton Center for Grand Strategy and Professor of the Practice, Bush School of Government and Public Service, College Station, TX
2018 - 2019, Senior Advisor to the Commander, Operation RESOLUTE SUPPORT, Kabul, Afghanistan
2017 - 2018, Director, Countering Violent Extremism Practice, Creative Associates, Washington, DC
2015 - 2017, Deputy Assistant Secretary of State, Bureau of Conflict and Stabilization Operations, Washington, DC
2013 - 2015, Deputy Director, Middle East, Joint Staff J5, Pentagon
2011 - 2013, Deputy Director, G35, U.S. Army, Pentagon
2009 - 2011, Executive Officer to the Commander, ISAF Joint Command, Kabul, Afghanistan
1987 - 2009, Various Military Police, Strategy and Policy positions within the Department of Defense