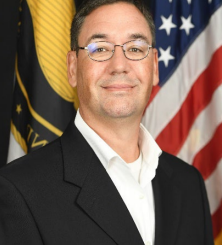 Mr. Vincent Seiferd
Strategic Engagement Lead
,
U.S. Special Operations Command
Mr. Vincent (Vince) Seiferd III is the Special Operations Forces Acquisition, Technology, and Logistics (SOF AT&L) Science and Technology (S&T) directorate strategic engagement lead, United States Special Operations Command, MacDill AFB, Florida. In this capacity, he serves as the cooperation and collaboration office with other S&T Government offices within a Unified Combatant Command Headquarters. He coordinates and manages all technology transition opportunities with a focus on a robust and effective Cooperative Research and Development Agreement (CRADA) programs. Mr. Seiferd also interacts with multiple academic organizations from University Affiliated Research Centers (UARC) and other national and regional agencies and services to partner and collaborate. Vince has been lucky to also support the partnership and collaboration with the US SOFs closest foreign partners throughout his career.
Vince Seiferd is a native of Lemoore, CA and a veteran of the U.S. Navy as an Electricians Technician.
Vince has enjoyed a lifelong career in and associated with the U.S. Armed Forces, starting with working in a very small Air Operations Department Detachment at Pachino Target Range based out of NAS Sigonella Sicily where he was first introduced to the U.S. Navy Special Operations Forces. Mr. Seiferd then applied for and was accepted to work at the Joint Communications Support Element (JCSE) Airborne at MacDill AFB, Tampa Florida. While continuing support to operational Special Operations Units he decided to separate and was fortunate to continue as a part of the SOF team since 2004. Over 17 years Vince has held a variety of acquisition engineering positions in Command, Control, Communications, and Computers (C4) at most SOF AT&L Program Executive Office levels.
Mr. Seiferd obtained a bachelor's degree in Computer Engineering and a Master's in Business Management from Grantham University while on Active Duty.
His awards and decorations include the Defense Meritorious Service Medal, Navy and Marine Corp Achievement Medal(s), Navy and Marine Corp Commendation Medal, Joint Service Commendation Medal(s), Joint Service Achievement Medal, Joint Meritorious Unit Award, SOF AT&L Acquisition Maverick.