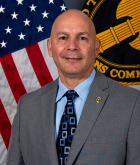 Mr. Israel Reyes
Director of SOF AT&L Security
,
U.S. Special Operations Command
Mr. Israel Reyes is married to the former Tracy A. Roberts and has three children. He is originally from Jersey City, New Jersey and served in the US Air Force from 1986 through 2006.
Mr. Reyes is the senior Air Force government Security Specialist assigned to Headquarters Special Operations Command, Special Operations Forces Acquisition, Technology, and Logistics (SOF AT &L). As the Director of Security, Mr. Reyes' team is responsible for all facets of security management which include all special category programs executed at SOF AT &L.
Prior to joining the Department of the Air Force, Mr. Reyes was assigned to the Navy Engineering Logistics Office as a Program Security Manager with duty at USSOCOM SOF AT&L from April 2007 through October 2019.
Previous experience includes Site Security Supervisor at Honeywell Corporation Clearwater, Florida, retired US Air Force senior noncommissioned officer Security Specialist with emphasis on intelligence related and special category programs. Additionally, Mr. Reyes was assigned as a Security Manager to Headquarters Department of the Army, DoD Homeland Security Task Force and the intelligence community as a Senior Program Security Officer at the National Reconnaissance Office, Chantilly Virginia.
Mr. Reyes holds a Bachelor degree in occupational management from Wayland Baptist University and maintains the DoD Security Fundamentals Professional Certification and Special
Programs Security Certification.