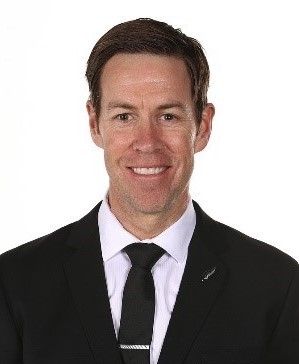 Mr. Darren Shand
Manager
,
New Zealand All Blacks
Darren Shand has been the All Blacks Manager since 2004, which included the 2011 and 2015 Rugby World Cup winning campaigns and in 2013 the first undefeated Test season.
In his time, the All Blacks also won the Tri Nations and subsequent Rugby Championship six times. The All Blacks have also won three Grand Slams against the Home Nations in 2005, 2008 and 2010 and been World Rugby Team of the Year ten times: 2005, 2006, 2008, 2010 - 2016 as well as World Sports Team of the Year at the 2015 Laureus Awards.
Darren has a Bachelor of Physical Education (Otago University) and previously served as Marketing Manager with tourism pioneers AJ Hackett Bungy in Queenstown.
In 2022, Darren was brought onto the Culture and Leadership Advisory Board at Novartis Pharmaceuticals, to provide his expertise and experience and help to build a
team of thought leaders at Novartis with diverse perspectives.
In 2014, Darren was appointed as an Officer of the New Zealand Order of Merit in the Queen's Birthday Honours.
Darren talks about leadership, wellbeing, building teams and growing people, working under pressure, change management and living your values.