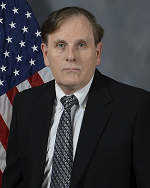 Mr. Charles Bright
Director of Procurement SOF AT&L
,
U.S. Special Operations Command
Charles E. Bright is the Deputy Director of Procurement of the Headquarters U.S. Special Operations Command (USSOCOM), MacDill AFB, FL. Mr. Bright is responsible for assisting the Director of Procurement in overseeing 35 Headquarters Division and Field Contracting Offices procuring nearly $5 billion of special operations-peculiar equipment, services, and
supplies. He is also the Agency Advocate for Competition.
Mr. Bright started his federal contracting career in 1989 as a procurement intern at the Naval Coastal Systems Station. While working for the Navy, he was responsible for the award and administration of complex research and development contracts. In 1994, he transferred to USSOCOM. During his time at USSOCOM, he has been a contract specialist, contracting officer with an unlimited warrant, a procurement analyst, and Division Chief.
Career Chronology
1. May 1989 – September 1994, Contract Specialist, Naval Coastal Systems Station
2. September 1994 – September 1995, Contract Specialist, USSOCOM Directorate of Procurement
3. September 1995 – January 2000, Procurement Analyst, USSOCOM Directorate of Procurement
4. January 2000 – August 2003, Contracting Officer, USSOCOM Directorate of Procurement
5. August 2003 – March 2012, Division Chief and Contracting Officer, USSOCOM Directorate of Procurement
Major Awards
Ida M. Ustad Award for Excellence in Acquisition (2003)
Packard Award Winner (Two Different USSOCOM Programs)
USSOCOM Employee of the Year (1995)
Education and Other
1986 Bachelor of Business Administration, Florida Atlantic University, FL
1989 Masters of Business Administration, University of Central Florida, FL
Acquisition Professional Development Program (APDP) Level III in Contracting Member Acquisition Corp