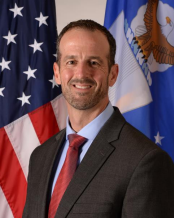 Mr. Bill Innes
Deputy Director, Acquisition
,
U.S. Special Operations Command
Mr. Innes entered civil service upon graduation from St. Louis University in 1993 and subsequent positions in industry. His initial government assignment in 1997 was to the San Antonio Air Logistics Center, Kelly AFB, TX, providing engineering support to the propulsion directorate and later the C-17 program on-site at Charleston AFB, SC. Following a short period at Warner-Robins ALC, Mr. Innes was assigned to the Aeronautical Systems Center, Wright-Patterson Air Force Base, Ohio supporting the F-22 program as Chief Sustainment Engineer. This led to his selection as the CV-22 Chief Engineer at Patuxent River NAS. Mr. Innes then broadened his DoD organizational and technical knowledge base as Senior Defense Analyst in the Office of the Secretary of Defense, AT&L (Industrial Policy).
In 2009, Mr. Innes volunteered for a 12-month assignment to Kabul, Afghanistan supporting Operation Enduring Freedom where he supported the US Army and US Agency for International Development as a Program Manager for large infrastructure projects throughout the country. Upon completion of the assignment, Mr. Innes returned to the Air Force and the CV-22 program, taking on the role of Deputy Program Manager. In 2012 he was assigned to USTRANSCOM as Division Chief for a portfolio of Information Technology programs.
He was promoted to SES and assigned as Deputy Director, Acquisition for USSOCOM in May 2019.
EDUCATION
1993 Bachelor of Science degree in Aircraft Maintenance Engineering, St. Louis University, St. Louis, MO
2001 Master of Business Administration, The Citadel, Charleston, SC
2002 Air Command and Staff College, Air University, Distance Learning
2011 Program Manager's Course, Defense Acquisition University, Fort Belvoir, VA
2012 USAF Enterprise Leadership Seminar (STRAT II), University of Virginia
2014 Master of Science in National Resource Strategy, National Defense University, Distinguished Graduate
CAREER CHRONOLOGY
1. Mar 1995 – July 1996, Aviation Materials Technical Sales Representative, Cooper Aviation, Chicago, IL
2. July 1996 – Aug 1997, Product Support Representative, PT6, General Electric, Miami, FL
3. Aug 1997 – Dec 1998, C-130 Propulsion Engineer, San Antonio ALC, Kelly AFB, TX
4. Dec 1998 – Jan 2003, C-17 Chief Engineer, Field Support, Charleston AFB, SC
5. Jan 2003 – July 2003, C-17 Chief Engineer, System Support Manager, Warner Robins ALC, Warner Robins, GA
6. July 2003 – Nov 2006, F-22 Chief Engineer, Sustainment, ASC, Wright-Patterson AFB, OH
7. Nov 2006 – Sept 2008, CV-22 Chief Engineer, Naval Air Systems Command, Patuxent River Naval Air Station, MD
8. Sept 2008 – May 2009, Senior Defense Analyst, Office of the Secretary of Defense, AT&L (Industrial Policy), Arlington, VA
9. May 2009 – July 2010, Senior Program Manager, US Army Corps of Engineers and US State Department, Kabul, Afghanistan
10. July 2010 – Sep 2012, CV-22 Deputy Program Manager, Naval Air Systems Command, Patuxent River Naval Air Station, MD
11. Sep 2012 – May 2019, Division Chief, Systems and Services, USTRANSCOM, TCAQ, Scott AFB, IL
12. May 2019 – present, Deputy Director, Acquisition, USSOCOM
AWARDS AND HONORS
2007 Meritorious Civilian Service Award
2010 US Agency for International Development Meritorious Civilian Group Award
2010 Global War on Terror SECDEF Medal
2012 Meritorious Civilian Service Award
2019 Joint Meritorious Civilian Service Award
PROFESSIONAL CERTIFICATIONS
Systems Planning, Research, Development and Engineering, Level III
Program Management, Level III
FAA Airframe and Powerplant License