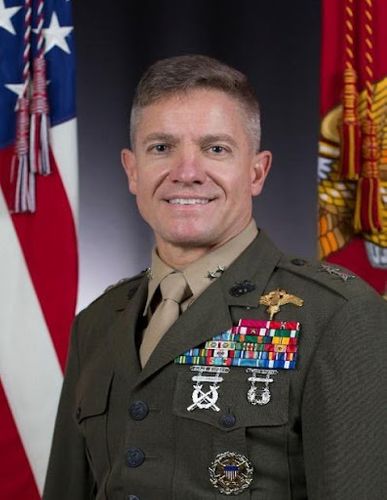 Major General Matthew Trollinger
Commander
,
U.S. Marine Corps Forces Special Operations Command
Major General Matthew G. Trollinger is currently serving as the Commander of Marine Forces Special Operations Command. Major General Trollinger is a graduate of Old Dominion University and was commissioned into the Marine Corps in 1990.
An infantry officer, Major General Trollinger has a diverse background in reconnaissance, security forces, and special operations, deploying numerous times in support of both routine and emergent requirements.
His previous commands include Naval Amphibious Force, Task Force 51/5th Marine Expeditionary Brigade, 11th Marine Expeditionary Unit, 3rd Marine Special Operations Battalion, and 1st Fleet Antiterrorism Security Team Company. Major General Trollinger also served as the Operations Officer for a Marine Expeditionary Unit as well as a Battalion Landing Team.
Major General Trollinger's staff and joint assignments include Deputy Director for Politico-Military Affairs, Middle East and Africa, within the Directorate for Strategy, Plans, and Policy on the Joint Staff, J-5; Director of Operations within Plans, Policies, and Operations at Headquarters Marine Corps, G-3/G-5 at Marine Corps Forces Special Operations Command, Military Assistant to the Deputy Under Secretary of the Navy–Policy, and warfighter capability improvement integrator at the Joint Warfighting Center.
He had the unique opportunity to grow professionally as a Commandant of the Marine Corps Fellow with the Center for Strategic and International Studies, as well as attending Harvard Business School's Advanced Management Program.