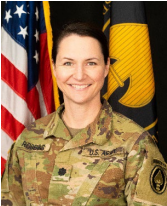 Lieutenant Colonel Amanda Robbins
Command Psychologist
,
U.S. Special Operations Command
Lieutenant Colonel Amanda Robbins, Psy.D. is the Command Psychologist, United States Special Operations Command, MacDill AFB, Florida. In this capacity, she serves as special staff to the Commander and Staff, POTFF, TSOC and Component Psychologists to synchronize all aspects of clinical and operational psychology support across a global area of responsibility. She is responsible for providing subject matter expertise and consultation on all psychological matters relating to current operations, assessment and selection, Warfighter brain health, research, and behavioral health coordination.
Lieutenant Colonel Robbins is a native of Columbia, South Carolina and received her commission as an Army psychologist in 2004. She completed her PsyD in Clinical Psychology at
the University of Denver and her clinical internship at Tripler Army Medical Center 2004-2005. She holds a Master's degree in Clinical Psychology and a Bachelor's of Science degree in Psychology from Furman University.
LTC Robbins' first assignment was to the 4th Brigade, 10th Mountain Division, serving as its first Brigade Psychologist 2005-2009. Following her assignment to 10th MTN, she was selected as the Command Psychologist for the US Army Intelligence Center of Excellence and the HUMINT Training Joint Center of Excellence. From 2009-2012, she provided operational and clinical psychology support to the CG, USAICOE as well as platform instruction to all Military Intelligence courses at Fort Huachuca, AZ.
In 2013, LTC Robbins was chosen as the Clinical Psychology Internship Program Director at Madigan Army Medical Center, recruiting, teaching, and mentoring junior psychologists entering Army service. From 2014-2017, she concurrently served as Chief, Behavioral Health Graduate Medical Education at Madigan, overseeing two APA-accredited graduate psychology programs and the Army Social Work internship program. LTC Robbins went on to serve as the Command Psychologist at 1st Capabilities Integration Group, Airborne at Fort Belvoir from 2017-2020. Preceding her current assignment at USSOCOM, LTC Robbins served as the Chief, Behavioral Health Specialty Evaluations at Kimbrough Army Medical Center, Fort Meade.
LTC Robbins' military professional education includes the Army Medical Department Officer Basic Course, Military Intelligence Captains Career Course, in-residence Command and General Staff College, Behavioral Science Consultation Course, and the Advanced Operational Psychology Course. Her awards include the Meritorious Service Medal with 4 OLC, the Army Commendation Medal with 2 OLC, Joint Service Commendation Medal, Army Commendation Medal with 3 OLC, Army Superior Unit Award, Afghanistan Campaign Medal with 1 Campaign star, Iraqi Campaign Medal with 2 Campaign stars, the National Defense Service Ribbon, and Armed Forces Service Medal.
LTC Robbins and her husband of 17 years, Ken Scudder, have three daughters, 10-year-old twins Annabelle and Ava and 8-year-old Chase.