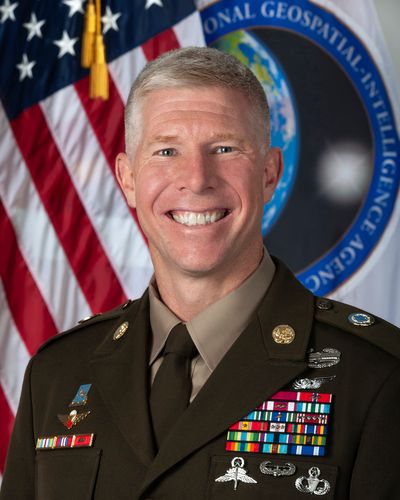 Command Sergeant Major Thomas Baird
Senior Enlisted Advisor
,
National Geospatial-Intelligence Agency
Command Sergeant Major TJ Baird currently serves as the National Geospatial-Intelligence Agency's Command Senior Enlisted Leader. In this capacity, CSM Baird advises the NGA Director on the effective utilization of all military services members; carries the Director's vision, mission, and intent to the workforce; focuses on NGA's People Strategy; builds partnerships across the Joint, Interagency, Multi-national environment; and is the liaison to Senior Enlisted Leaders assigned to the National Capitol Region, other Combat Support Agencies, and the Combatant Commands.
CSM Baird is married to CSM JoAnn Naumann (Special Operations Command-Korea CSM) and they have a daughter, Veronika (17). He enjoys chauffeuring his daughter to her various extracurricular activities, hanging out with his dog, outdoor life, reading, obstacle course races, and competing in triathlons.
After graduating Initial Military Training and Advanced Individual Training, CSM Baird was assigned to the 313th Military Intelligence Battalion, 82nd Airborne Division. While in the 313th MIBN, his primary roles were Team Leader, Squad Leader, and Platoon Sergeant. CSM Baird attended an Assessment and Selection course in the fall of 1999 and was subsequently assigned to the Military District of Washington where he served in a variety of positions ending as a battalion CSM.
In May 2016, CSM Baird assumed the duties as the USASOC G2 SGM. CSM Baird assumed responsibility of the 504th Expeditionary Military Intelligence Brigade in June 2016. While assigned to the brigade, CSM Baird deployed to Afghanistan as the Task Force ISR CSM. CSM Baird moved to Joint Base San Antonio in March 2019 to work as the IMCOM G/3/5/7 SGM. In 2020, CSM Baird was selected to serve as the TRADOC G3/5/7 SGM. During his 30 years in the Army, CSM Baird deployed to INDO-PACOM, NORTHCOM, SOUTHCOM, CENTCOM, and AFRICOM. He has numerous rotations to Operations ENDURING FREEDOM, IRAQI FREEDOM, FREEDOM'S SENTINEL and various National Command Authority-directed missions.
CSM Baird's awards and decorations include the Legion of Merit (1OLC), Bronze Star Medal (2OLC), Defense Meritorious Service Medal (1OLC), and the Meritorious Service Medal (2OLC), Afghanistan Campaign Medal with three campaign stars, and the Humanitarian Service Medal. CSM Baird also earned the Combat Action Badge, Air Crew Member Badge, Master Parachutist Badge, Military Freefall Jumpmaster Badge, Air Assault Badge, and is the recipient of the Knowlton Award.