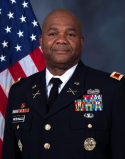 Colonel Robert L. McDonald
Military Deputy, Special Operations Forces Acquisition, Technology, and Logistics (AT&L) Center
,
U.S. Special Operations Command
COL Robert L. McDonald Jr. was commissioned from the Army Reserve Officer Training Corps at Florida A&M University in 1995 as a Second Lieutenant and Field Artillery Officer. COL McDonald currently serves as the Military Deputy for the USSOCOM Special Operations Forces Acquisition, Technology, and Logistics (AT&L) Center headquartered at MacDill AFB, Florida. In this role he assists in the oversight of SOF AT&L acquisition strategy, program planning, acquisition program performance, and enterprise execution in support of PEOs and Directors, and overall performance of the center against the CDR and AE priorities. In addition, he is responsible for joint military personnel management across the center.
His previous operational assignments include Platoon Leader, Alpha Battery, 6th Battalion, 37th FAR, 2nd Infantry Division, Camp Stanley, South Korea; Platoon Leader, Alpha Battery, 3rd Battalion, 321st FAR, 18th Field Artillery Brigade, Fort Bragg, North Carolina. While at Fort Bragg, he deployed to Bosnia in support of Operation Joint Endeavor. Operations Officer, DIVARTY, 4th Infantry Division, Fort Hood, TX; Assistant S3, 2nd Battalion, 20th Field Artillery, Fort Hood, TX; He commanded Alpha Battery, 2nd Battalion, 20th Field Artillery Regiment, 4th Infantry Division, Fort Hood, Texas. While in command, he deployed to Iraq in support of Operation Iraqi Freedom.
COL McDonald's acquisition assignments include Team Leader, 606th Senior Contingency Contracting Team in Kaiserslautern, Germany. While assigned to the 606th SCCT, he deployed to Tikrit, Iraq as a contingency contracting officer with the Joint Contracting Command Iraq/Afghanistan in support of Operation Iraqi Freedom; Operations Group Area Chief, Defense Contract Management Agency's (DCMA), Atlanta, Georgia. During this tour he deployed twice to Qatar and Afghanistan, respectively, as an Administrative Contracting Officer. Chief of Business Operations, DCMA Southern European, Wiesbaden Germany; Battalion Commander, 922nd Contracting Battalion, Fort Campbell, Kentucky. In October 2014, he deployed the battalion to Liberia, West Africa in support of Operation United Assistance, the fight against Ebola, and again In February 2016, to Iraq in support of Operation Inherent Resolve; Defense Acquisition Program Analyst, Office of the Undersecretary of Defense for Acquisition & Sustainment in the Pentagon, Washington, D.C.
He is certified Army Acquisition Corps member; Level III certified in Contracting, Level I certified in Program Management and Life Cycle Logistics. He holds a Bachelor of Science degree in Business Economics from Florida A&M University, a Master of Business Administration in Finance from Webster University, Master's Degree in National Security Resources from the Industrial College of the Armed Forces (ICAF). His military education includes Senior Service College, ICAF; the US Army Command and General Staff College; Intermediate Level Education (ILE); Intermediate Qualification Course (IQC); Field Artillery Officer Advance Course; US Army Airborne Course and Field Artillery Officer Basic Course.
COL McDonald is a veteran of eight deployments supporting Operation Joint Endeavor, Operation Iraqi Freedom, Operation United Assistance, Operation Enduring Freedom, Operation Freedom Sentinel and Operation Inherent Resolve. His military awards include the Bronze Star Medal, the Defense Meritorious Service Medal (3 OLC), the Meritorious Service Medal (3 OLC), the Joint Service Commendation Medal, the Army Commendation Medal (2 OLC), the Joint Service Achievement Medal (2 OLC) and the Army Achievement Medal.
COL McDonald's family includes wife Barbara and daughter Hannah (12).