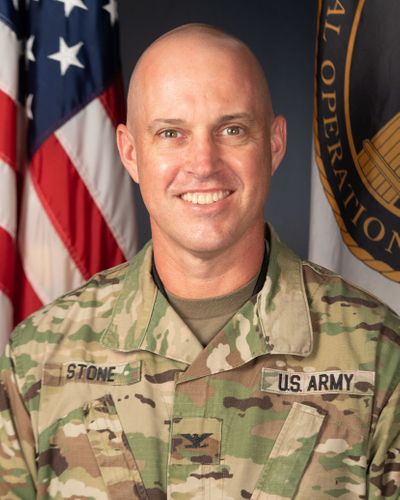 Colonel Michael Stone
Director, Preservation of the Force and Family
,
U.S. Special Operations Command
Colonel Michael Stone, Director, Preservation of the Force and Family (POTFF)
COL Stone most recently served as the Director of the Strategic Management Cell, Office of the Chief of Staff, USSOCOM from August 2020 until July 2022. His past Special Operations assignments include Deputy Director, Information Warfare at 1st Special Forces Command, Commander of the 1st Psychological Operations (PSYOP) Battalion, Deputy Commander of the 8th PSYOP Group, and Interagency Liaison Officer.
COL Stone has served in overseas assignments in Saudi Arabia, Jordan, Qatar, Iraq, and Afghanistan.
COL Stone was commissioned into the Medical Services Corps through the ROTC program at California Polytechnic State University, San Luis Obispo in 1997. His awards and decorations include the Bronze Star Medal, Air Medal, Defense Meritorious Service Medal, and Meritorious Service Medal.
COL Stone is the middle son of a Navy Command Master Chief and a career Registered Nurse. He is the proud father of his two children, Alex and Kylie. He has been in a relationship with Kathy Ott, the daughter of a Navy UDT officer, since November 2020.