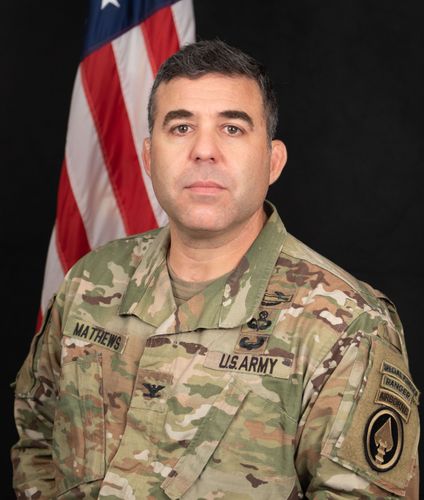 Colonel Jarrett Mathews
Director, Joint Acquisition Task Force (JATF), AT&L, Science & Technology
,
U.S. Special Operations Command
Colonel Jarret D. Mathews was commissioned in 1998 from the United States Military Academy at West Point with a Bachelor of Science Degree in Civil Engineering. Colonel Mathews earned a master's degree in Global Affairs and International Studies as part of the SOCOM Interagency Studies Program, from the University of Kansas.
Colonel Mathews began his career as a Combat Engineer in the 82nd Airborne Division at Fort Bragg, NC. He transitioned to US Army Special Forces, after the attacks of 9/11 and led Operational Detachment Alpha 593 through three tours in Iraq during Operation Iraqi Freedom. Colonel Mathews is a plank holder for the creation and employment of the Joint Operations Group-Central (JOG-C) and Commanded Regional Task Force-Central Asia and Regional Task Force-Arabian Peninsula in Afghanistan and Iraq respectively. Colonel Mathews returned to 5th Special Forces Group for Command and served as the Operations Director for the Special Operations Task Force 52 in Shindand, Afghanistan.
Colonel Mathews was next assigned to the Pentagon where he represented USASOC equities in the Headquarters Department of the Army G8 and later the G3/5/7, Special Operations Detachment (SOD) as the Policy and Forces Branch Chief.
Colonel Mathews served as the Commander of the Yakima Training Center from 2016 to 2018, where he was a leader in the development and execution of "CTC like" Division and Brigade Combat Team live / virtual integrated external evaluations across the Yakima Training Center enhanced training environment.
Colonel Mathews returned to SOCCENT in 2018 as the Levant Regional Operations Group Chief. He was later selected to serve as the CENTCOM CDR's representative in Israel. Colonel Mathews further served on a strategic operations team within the inter-agency. Upon return from overseas COL Mathews assumed the position of SOCCENT Deputy Operations Director for Special Activities across the middle east and central Asia.
Colonel Mathews' awards and decorations include the Defense Superior Service Medal, Bronze Star Medal (with 3 oak leaf clusters), Army Meritorious Service Medal (with 3 oak leaf clusters), Defense Meritorious Service Medal (with 3 oak leaf clusters), Army Commendation Medal (with oak leaf clusters), Army Achievement Medal, the Iraq Campaign Medal, the Afghanistan Campaign Medal, Master Parachutist Badge, Air Assault Badge, Special Forces Tab and the Ranger Tab.