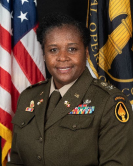 Colonel Rhea Pritchett
Program Executive Officer, PEO SOF Digital Applications (SDA)
,
U.S. Special Operations Command
Colonel Rhea Pritchett is a native of New York. She graduated from Hofstra University, Hempstead, New York in 1999 and received her commission as a Second Lieutenant in the United States Army Signal Corps.
Colonel Pritchett's previous assignments include numerous assignments at Fort Hood, Texas: Nodal Platoon Leader, A Company, 16th Signal Battalion, Company Executive Officer, C Company, 16th Signal Battalion, Operations officer and Assistant S-3, HHC, 16th Signal Battalion., Detachment Commander and Battalion S-6, 11th Military Police Battalion (CID), Operations Officer, 57th Signal Battalion. Colonel Pritchett completed two combat deployments to Iraq in support of OIF and was selected for the Acquisition Workforce in 2006. Her Acquisition assignments include Test Officer for Operational Test Command, Fort Hood, Texas, Assistant Product Manager for PdM WIN-T Inc.1 and Strategic Mission Command at Aberdeen Proving Ground, Maryland and an Assistant TRADOC Capabilities Manager for Network and Services at Fort Gordon, Georgia. In 2016, Colonel Pritchett served as a Training with Industry Fellow at Lockheed Martin Rotary and Mission Systems in Orlando, Florida. Immediately following her TWI assignment in 2017, she became a board selected Product Manager for Live Training Systems within the Program Executive Office for Simulations, Training and Instrumentation in Orlando, Florida. Colonel Pritchett's most recent assignment was as the Military Deputy for the Software Engineering Center at Aberdeen Proving Ground, MD.
Colonel Pritchett's civilian and military education includes a Master of Science Degree in National Resource Strategy from the Eisenhower School, National Defense University, a Master of Arts Degree in Procurement and Acquisitions Management from Webster University and a Bachelor of Business Administration in Accounting from Hofstra University. Her military education includes the Signal Officer Basic Course, Captain's Career Course, Acquisition Basic Course, Intermediate Contracting Course, Intermediate Level Education, and Senior Service College. Colonel Pritchett is a member of Army Acquisition Corps and holds an Advanced Level (formerly Level III) Defense Acquisition University certification in Program Management and Information Technology.
Colonel Pritchett's military awards include the Bronze Star Medal, Meritorious Service Medal (SLC), Army Commendation Medal (2 OLC), Army Achievement Medal (3 OLC), and the Parachutist Badge.
Colonel Pritchett is married to Elvis Pritchett, and they have three sons.