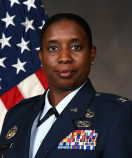 Colonel Constance Young
Director of Procurement
,
U.S. Special Operations Command
Colonel Constance H. Young is the Director of Procurement for the United States Special Operations Command. Her role is to rapidly deploy contracting expertise resulting in superior technologies, equipment, and services for Special Operations Forces.
Colonel Young entered the Air Force in June 1996 upon graduation from Air Force ROTC as a distinguished graduate from Tuskegee University in Tuskegee, Alabama. She is certified Level III in Contracting and has extensive experience in operational, systems, specialized and contingency contracting.
Prior to her current assignment, Colonel Young was assigned as Commander, Defense Contracting Management Agency (Pacific), based in Singapore where she was responsible for a multi-national, joint service team located at 11 sites in the Pacific region including South Korea, Japan, Taiwan, New Zealand and Australia providing contract administration services including Air Operations, Engineering, Quality Assurance, and Contracting on more than 204 contracts, valued at 21 billion dollars for production and services throughout the Pacific region in support to Department of Defense components, and Foreign Military Sales.
Colonel Young also held post as Director, Installation Contracting Division responsible for installation support of all Wright-Patterson Air Force Base Non-Program Executive Officer organizations as well as DoD, SAF, AFMC, AFIT, Reserve and Guard, both local and geographically separated units. Further, as Deputy Commander of the 89th Maintenance Group at Joint Base Andrews in Maryland, her group provided maintenance and supply support for the President, Vice President, Cabinet Secretaries, key congressional members and other dignitaries worldwide on five different platforms, the Gulfstream C-20B and C-37A/B, and the Boeing C-40B and C-32A, a total of 17 assigned Special Airlift Mission (SAM) aircraft valued at over $940 million. She led maintenance operations, directed contract oversight, and oversaw a $450 million contractor-operated aircraft maintenance and supply support contract. Colonel Young also commanded at the squadron level twice, led contracting offices in Afghanistan for Department of the Army and North Atlantic Treaty Organization (NATO), and was an executive officer, program manager, and a deputy division chief on the Air Staff.
Colonel Young is married to Christopher Young of Augusta, GA. They have two sons, Christopher, Jr. and Carlton.
EDUCATION
1996 Bachelor of Science in Political Science, Tuskegee University, Tuskegee, AL 1999 Master of Arts in Procurement and Acquisitions Management, Webster University, St. Louis, MO
2001 Squadron Officer School, Maxwell AFB, AL
2008 Air Command and Staff College (Correspondence)
2014 Air War College (Correspondence)
2020 Joint Forces Staff College, Joint and Combined Warfighting School – JPME Phase II
ASSIGNMENTS
1. June 1996 - July 1999, contracting officer, 11th Contracting Squadron, Bolling AFB, Washington, DC 2. August 1999 - August 2003, branch chief, executive officer and contract negotiator, HQ Space and Missile Systems Center, Contracting Directorate, Los Angeles AFB, CA
3. September 2003 - August 2006, team leader/contracting officer, HQ Air Combat Air Combat Command, Contracting Squadron, Langley AFB, VA
4. August 2006 - August 2008, joint acquisition staff officer, HQs North American Aerospace Defense Command and U.S. Northern Command, Contracting Division (J44), Peterson AFB, CO 5. August 2008 - July 2009, Director of Contracting, HQ U.S. Air Forces Central, Air Forces Forward A7,Al Udeid AB, Qatar
6. July 2009 - May 2012, Commander, 5th Contracting Squadron, Minot AFB, ND (6-month deployment to Afghanistan)
7. June 2012 - June 2013, Commander, Office of the Deputy Assistant Secretary (Contracting), Pentagon, Washington, D.C deployed with CENTCOM-JTSCC, Kabul Afghanistan
8. June 2013 - July 2014, Deputy Chief, Contracting Business Systems, Office of the Deputy Assistant Secretary (Contracting), Assistant Secretary Acquisition, Pentagon, Washington, D.C. 9. July 2014 - July 2017, Deputy Commander, 89th Maintenance Group, Joint Base Andrews, MD 10. July 2017 - June 2018, Director, Installation Contracting Division, Air Force Life Cycle Management Center (AFLCMC) (AFMC), Wright-Patterson AFB, OH
11. June 2018 - June 2021, Commander, Defense Contract Management Agency (Pacific), Singapore 12. July 2021 - Present, Director of Procurement, HQ USSOCOM, MacDill AFB Florida
MAJOR AWARDS AND DECORATIONS
Defense Superior Service Medal
Bronze Star with one oak leaf cluster
Defense Meritorious Service Medal
Meritorious Service Medal with five oak leaf clusters
Air Force Commendation Medal with two oak leaf clusters
Air Force Achievement Medal with one oak leaf cluster
Joint Meritorious Unit Award with one oak leaf cluster
Meritorious Unit Award
Air Force Outstanding Unit Award
National Defense Service Medal
Afghanistan Campaign Medal
Global War on Terrorism Service Medal
Humanitarian Service Medal
NATO Medal
EFFECTIVE DATES OF PROMOTION
Second Lieutenant May 29, 1996
First Lieutenant May 29, 1998
Captain May 29, 2000
Major June 1, 2006
Lieutenant Colonel August 1, 2011
Colonel October 1, 2017