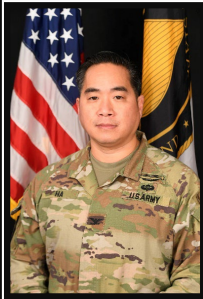 Colonel Anh Ha
Program Executive Officer, PEO SOF Warrior
,
U.S. Special Operations Command
Colonel Anh H. Ha is the Program Executive Officer SOF Warrior. He is a native of Rogers, Arkansas, and was commissioned a Second Lieutenant in 1996 as part of the early commissioning program at the Marion Military Institute. He then completed his Bachelor of Fine Arts at Louisiana State University in 1999 and was activated into Army as an Infantryman. In July 2008, he transitioned to the U.S. Army Acquisition Corps. COL Ha's most recently served as a Fellow with the US Army's Training with Industry Program.
COL Ha has previously served as a Rifle Infantry Platoon Leader and then Company Executive Officer (XO) in 3-7 Infantry Battalion, 3rd Infantry Division, Fort Stewart, GA where he deployed to Kosovo in 2000. His next assignment was at Schofield Barracks, HI, with the 25th Infantry Division where he served as the General Staff 3-Plans Officer, the 2-35 Infantry Battalion Logistics Officer in Afghanistan 2004-2005, and the 2-35 Infantry Battalion Company Commander in Iraq in 2006-2008.
Upon transitioning to the US Army Acquisition Corps; his other acquisition duties include Deputy Associate Director for TARDEC Quick Reaction Cell at Detroit Arsenal, MI. Assistant Product Manager for the Mine Resistant Ambush Protected (MRAP) All-Terrain Vehicle (M-ATV) in Detroit Arsenal and Afghanistan forward Operations in Kandahar, the MRAP Vehicle Department of the Army Systems Coordinator (DASC) in the Pentagon, Assistant Secretary of the Army (Acquisition, Logistics and Technology) (ASA(ALT) Forward Operations Director in Kuwait, XO to the ASA(ALT) Deputy for Acquisition and Systems Management (DASM), USSOCOM Program Manager for Counterproliferation at MacDill Air Force Base, XO for the ASA(ALT) Principal Military Deputy in the Pentagon, and XO for the Director of Supply Production, and Distribution for Operation Warp Speed in Washington DC.
COL Ha holds an Associate degree in Fine Arts from Marion Military Institute in Marion, AL; Bachelor of Arts Degree in English and double minor in Philosophy and Sociology from Louisiana State University A&M in Baton Rouge, LA; Masters of Business Administration in Acquisitions & Contract Management from Naval Postgraduate School in Monterey, CA; Masters of Strategic Studies from the US Army War College in Carlisle Barrack, PA. His military education includes the Infantry Officer Basic and Advanced Courses, Combined Arms and Services Staff School, Anti-Armor Leaders Course, Advanced Nuclear Biological and Chemical Officer Course, Bradley Infantry Fighting Vehicle Commander Course, Acquisition Basic Qualification Course, Intermediate Qualification Course, Joint Professional Military Education Level I & II.
COL Ha's awards and decorations include the Ranger Badge, Combat Infantryman Badge, Expert Infantryman Badge, Parachutist Badge, Bronze Star (one Oak Leaf Cluster [BOLC]), Defense Meritorious Service Medal (DMSM), Meritorious Service Medal (one SOLCs), Army Commendation Medal (three OLCs), Army Achievement Medal (two BOLCs), Iraq Campaign Medal, Afghanistan Campaign Medal, Kosovo Campaign Medal, Global War on Terrorism Expeditionary & Service Medal, NATO Medal, and Humanitarian/Armed Forces Service Medal.
COL Ha is very lucky to be married to his wife, the former Dawn Leigh Page; and they have two amazing sons, Tran and Vinh.