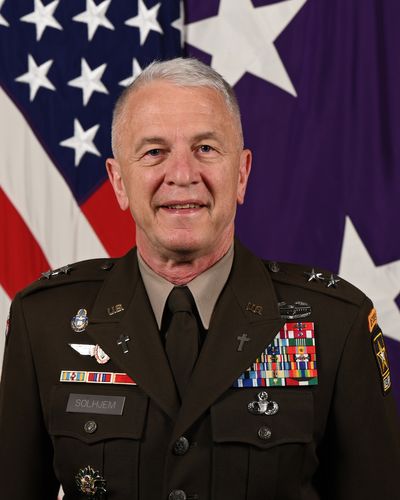 Chaplain (Major General) Thomas Solhjem
Chief of Chaplains
,
U.S. Army
Chaplain (Major General) Thomas L. Solhjem became the Army's 25th Chief of Chaplains in May 2019. He leads the Chaplain Corps in providing religious support to the Army's Soldiers, their Families, and Civilians.
He has held a variety of key chaplain assignments throughout his military career. He has served at all echelons from battalion chaplain to the Command Chaplain at a Combatant Command. A few highlights include, but are not limited to Regimental Chaplain, 75th Ranger Regiment; Division Chaplain 1st Special Forces Command; Command Chaplain, Joint Special Operations Command; Command Chaplain, U.S. Special Operations Command; and Deputy Chief of Chaplains.
Chaplain Solhjem has numerous awards and citations, the more prominent are Legion of Merit (2OLC), Bronze Star (4OLC), the Combat Action Badge; the Ranger Tab; Master Parachutist Wings; and multiple Foreign Jump Wings.
Chaplain Solhjem has been married to the former Jill Walberg for 45 years. Tom and Jill are the parents of four children: BJ and his wife, Laurie, who have three daughters; Thad, NDARNG, and his wife, Deanna; Sam, USAR, and his wife, Caitlin; and Beth and her husband, Andrew Gustafson, who have two sons and a daughter.