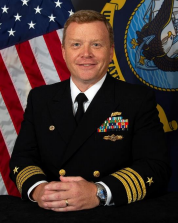 CAPTAIN Randy Slaff
Program Executive Officer, PEO Maritime
,
U.S. Special Operations Command
CAPT Randolph Slaff was born in Nashville, Tenn., and raised in Dallas, Pa. He graduated from the United States Naval Academy in 1999 with a degree in Naval Architecture. He then reported to USS ARLEIGH BURKE (DDG 51) for his first division officer tour as the Anti-Submarine Warfare Officer. During his tour aboard USS ARLEIGH BURKE, he completed a deployment to the Mediterranean Sea and Persian Gulf and earned his Surface Warfare Officer qualification.
In 2001, CAPT Slaff reported to DESRON 26 as the Assistant Operations Officer, and deployed in support of Operation Enduring Freedom to the Mediterranean Sea, Persian Gulf, and North Arabian Sea, and earned a Tactical Action Officer qualification. Following his tour with DESRON 26, he reported ashore to the Surface Warfare Officer School in 2003 where he served as an anti-submarine warfare instructor for the division officer and department head courses and completed his Master Training Specialist Qualification. In 2007, he completed his master's degree at the Naval Postgraduate School (NPS) in Monterey, Calif., where he earned a Master of Science in Mechanical Engineering.
CAPT Slaff's initial Engineering Duty Office tour was at the Supervisor of Shipbuilding, Conversion, and Repair in Bath, Maine (SSBA), where he served as a Project Officer/Ship Superintendent for DDG 104, DDG 106, and DDG 1000. Following the completion of his Engineering Duty Officer Qualification in 2009, he assumed duties as the SSBA Production/Delivery Officer for both the DDG 51 and DDG 1000 programs and completed the delivery of USS WAYNE E MEYER (DDG 108). In 2010, CAPT Slaff reported to the Supervisor of Shipbuilding, Conversion, and Repair (SSGC) in Pascagoula, Miss., where he was assigned as the DDG 1000 Program Manager's Representative (PMR). CAPT Slaff completed multiple deliveries including the first delivery for the DDG 1000 Program at SSGC in 2010 and the DDG 1000 Composite Hangar in 2012. While stationed at SSGC, CAPT Slaff was accepted as a member of the Acquisition Professional Community. Following his tour as SSGC DDG 1000 PMR, CAPT Slaff completed an IA deployment as the Deputy Force Engineer for Combined Joint Task Force Horn of Africa in Djibouti, Africa. In 2013, CDR Slaff reported to PEO Ships as the Production Officer and Principle Assistant Program Manager for Post-Delivery, Test and Evaluation, and Fleet Introduction for the LPD Program (PMS 317). In 2016, CAPT Slaff reported to the Supervisor of Shipbuilding Gulf Coast as the LHA Program Manager's Representative and delivered USS TRIPOLI (LHA 7) in 2020. CAPT Slaff assumed duties as PEO-Maritime for Special Operations Forces Acquisition, Technology, & Logistics (SOF AT&L) in October 2020.
CAPT Slaff's personal awards include the Meritorious Service Medal (two awards), Joint Service Commendation Medal, Navy and Marine Corps Commendation Medal (four awards), and the Navy and Marine Corps Achievement Medal (two awards). He has been married to Maraya Slaff of Kingston, Pa., since 2000. They have two children, Nicholas and Isabelle.