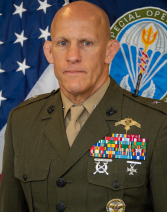 Brigadier General Peter Huntley
Commander
,
U.S. Special Operations Command South
Brigadier General Huntley enlisted in the U.S. Army in 1984 and served three years with the 1st Ranger Battalion before receiving an honorable discharge in 1987. In December 1991 he received a commission in the U.S. Marine Corps through the Platoon Leader's Course.
After completing Infantry Officer's Course in 1992, he reported to 1st Battalion, 9th Marines and deployed as a Platoon Commander to Somalia in support of Operation UNISOM II. After returning to Camp Pendleton, he was reassigned as a Company Executive Officer in 2d Battalion, 1st Marines and completed another deployment as part of WESTPAC 95.
Following graduation from career level school, he served as Operations Officer for 45 Commando Group (Royal Marines) during peace keeping operations in the Balkans (2000) and during the early phases of the United Kingdom's participation in Afghanistan (2001-2002). After returning to the United States, he reported to 3d Battalion, 6th Marines where he commanded Task Force Kabul during operations in support of the U.S. Embassy in Afghanistan (2002) and served as the Battalion Executive Officer during deployment for operations in eastern Afghanistan (2004).
In 2005, he deployed as the Operations Officer for the II MEF Iraqi Security Force Cell in Al Anbar supporting the introduction and employment of regular Iraqi Army units into that province. From 2006-2009 Brigadier General Huntley served as a Regional Affairs Officer, conducting multiple deployments in support of the Global War on Terrorism. From 2009-2011, he has served as the Commander of 2d Marine Special Operations Battalion and Special Operations Task Force – West in Afghanistan.
Following graduation from the National War College, Brigadier General Huntley served as Deputy, then Director for CT Operations within the Office of the Secretary of Defense (2012-2014). From 2014-2015, Brigadier General Huntley served as Director of Operations and Plans for the Combined Joint Interagency Task Force-Syria. During the period 2015-2017 he served as Commanding Officer, Marine Raider Regiment. Also, during 2017 Brigadier General Huntley served as Commanding Officer, Combined Joint Special Operations Task Force-Iraq during the clearance of Mosul, Tal Afar, Hawijah, and Al Qa'im.
Brigadier General Huntley went on to serve as the Chief of Staff, Joint Special Operations Command 2018-2019, Deputy Commander Marine Forces Special Operations Command 2019-2020. Director, Operations Division, Plans, Policies and Operations 2020-2022. Currently serving as Commander, Special Operations Command South.